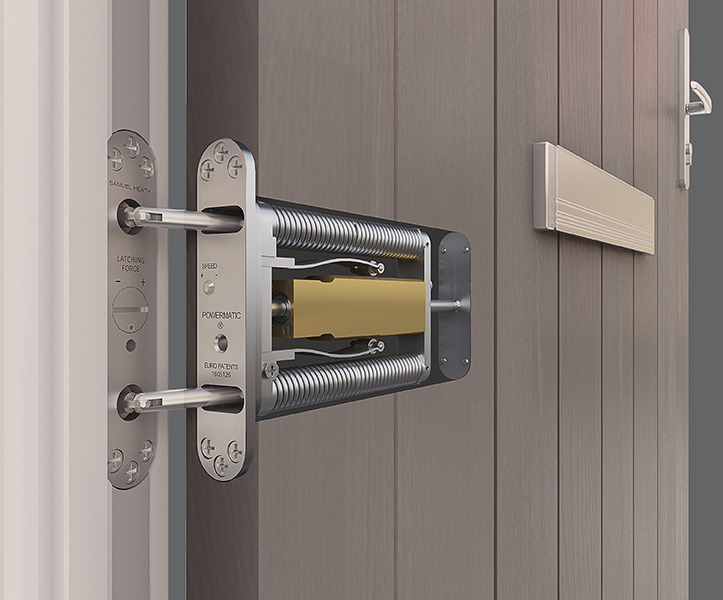 Powermatic concealed door closers deliver many benefits for social housing
Totally concealed when the door is closed, and particularly unobtrusive when the door is open, the Powermatic jamb-mounted door closer fits neatly between the door and frame, along the same edge as a door's hinges. It is this concealment that delivers a host of benefits which are particularly valued for social housing situations:-
Comfort & well-being
Powermatic concealed door closers have long been used by designers and architects to assure the aesthetics of interiors in a wide variety of buildings, notably hotels, high-end apartments and psychiatric care facilities.
The principle of improved aesthetics is now becoming more widely valued in social housing developments, and not for the sole purpose of a better-looking interior. The lack of unsightly mechanical devices creates a more homely, less institutionalised atmosphere which contributes towards the comfort and well-being of residents.
Powermatic door closers also offer some benefits in dwellings occupied by tenants with psychological or mental health challenges.
Reliability & maintenance
A damaged door closer will obviously prevent a fire door from performing its primary function of closing the door against its fire/smoke seals, but it can also prevent the door from operating at all. Furthermore, when a door closer is damaged it can often result in damage to the fire door itself.
Such situations can mean increased maintenance costs, inconvenience for residents and a failure in the continuity of fire safety.
Powermatic concealed door closers are far less likely to be damaged, whether by a deliberate act of vandalism, lack of care, misuse or tampering, making them a safer, more practical and financially astute option.
Installation & adjustment
The main entrance doors to many flats and HMOs have limited clearance, particularly behind the door. With nothing protruding from the door surface, Powermatic jamb-mounted door closers are able to accommodate such restrictions more easily.
Once installed, adjustment of closing speed and latching action will be necessary to account for local conditions and requirements. Here again, Powermatic door closers offer some practical advantages over rival products; they are much more easily accessed than many other door closing devices and, unlike other jamb-mounted door closers, can be fully adjusted without removal from the door.
All in all, these benefits of concealment make a compelling case for using Powermatic concealed door closers for flats, apartments and HMOs.